CARE INSTRUCTIONS
BAGS & ACCESSORIES
Leather goods and small leather goods are the perfect complement to a unique and audacious silhouette designed and created by Olivier Rousteing. With a contemporary look, they come in a variety of styles and shapes reflecting the heritage of the Maison and combining quality materials with semi-artisanal fabrication. These materials require regular care to preserve the beauty of your bag and small leather goods over time. We recommend taking to heart the following instructions. If you need other specific care advice for your creation, we invite you to consult a specialist. Protecting your bag: • Fill your bag/small leather good with tissue paper and put them in its protective pouch. Store in a dry place away from moisture and light. • Avoid all contact with textiles and materials that can cause the color to bleed. Avoid wearing dark clothes with leather bags or light-colored canvas bags and vice versa. • If your bag gets wet, dab it with a clean, lint-free cloth and let air dry away from all heat sources. Taking care of your bag / small leather good:
Mirror or metallic finished leather
Mirror leathers or leathers with a metallic finish are sensitive to solvents and alcohol which can strip the surface finish of the leather. These leathers are also delicate and sensitive to abrasion. They can scratch easily. To care for mirror finished leather: • Use a little soapy water. • Rinse with a clean cloth dampened with lukewarm water. • Let air dry. To care for metallic finished leather: • Gently dust and remove dirt with a soft brush. • Clean using a special metallic leather spray. Do a spot test on a hidden area beforehand to make sure the dye does not come off. Let dry for 30 minutes.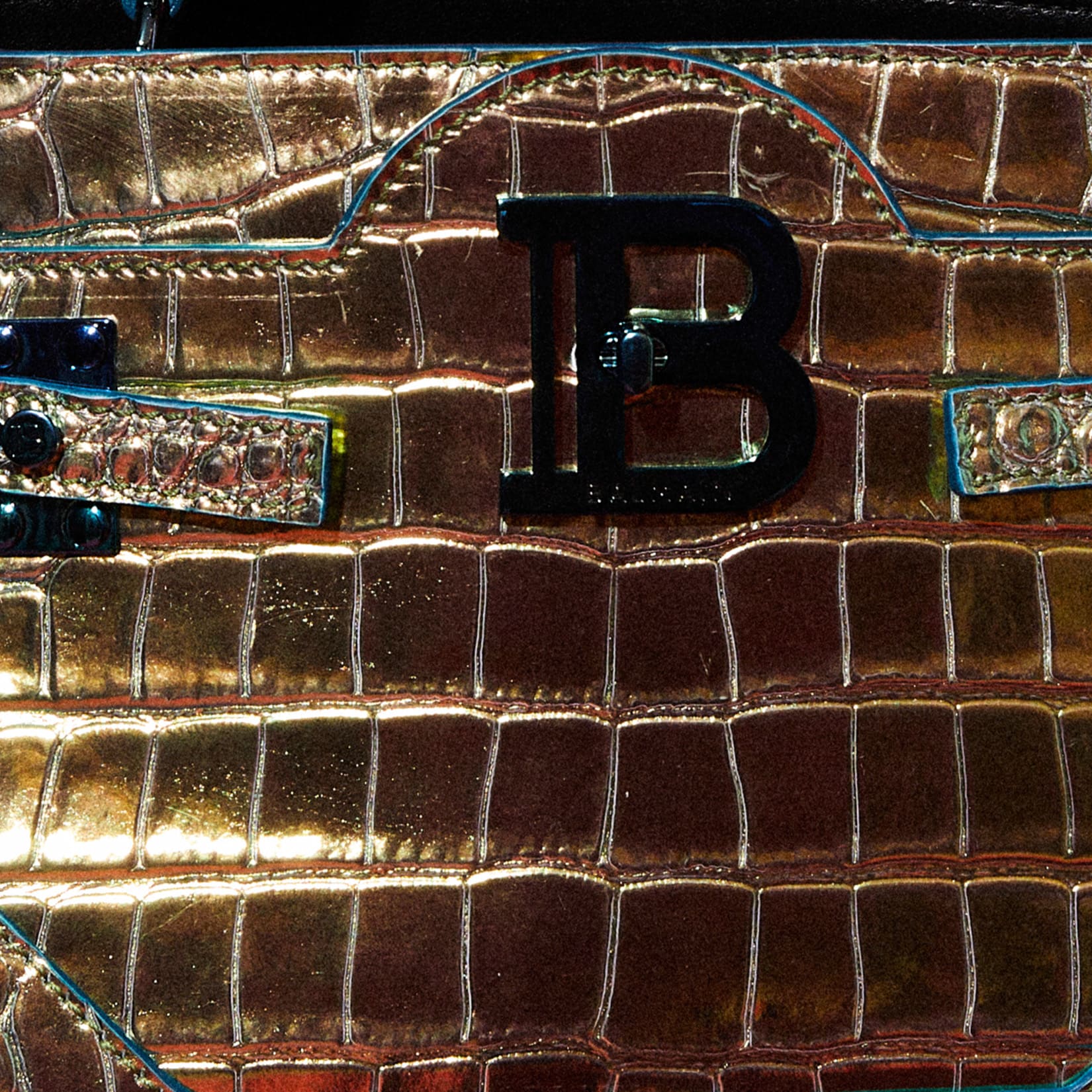 Patent leather
To care for patent leather, use a little soapy water, rinse with a clean cloth dampened with lukewarm water, and let air dry. During use, this leather tends to retain fingerprints, proceed as indicated above. By nature, the color of patent leather can bleed onto or absorb the color of the material of another item when put in direct and prolonged contact. We recommend storing your bag in its protective pouch to avoid this situation.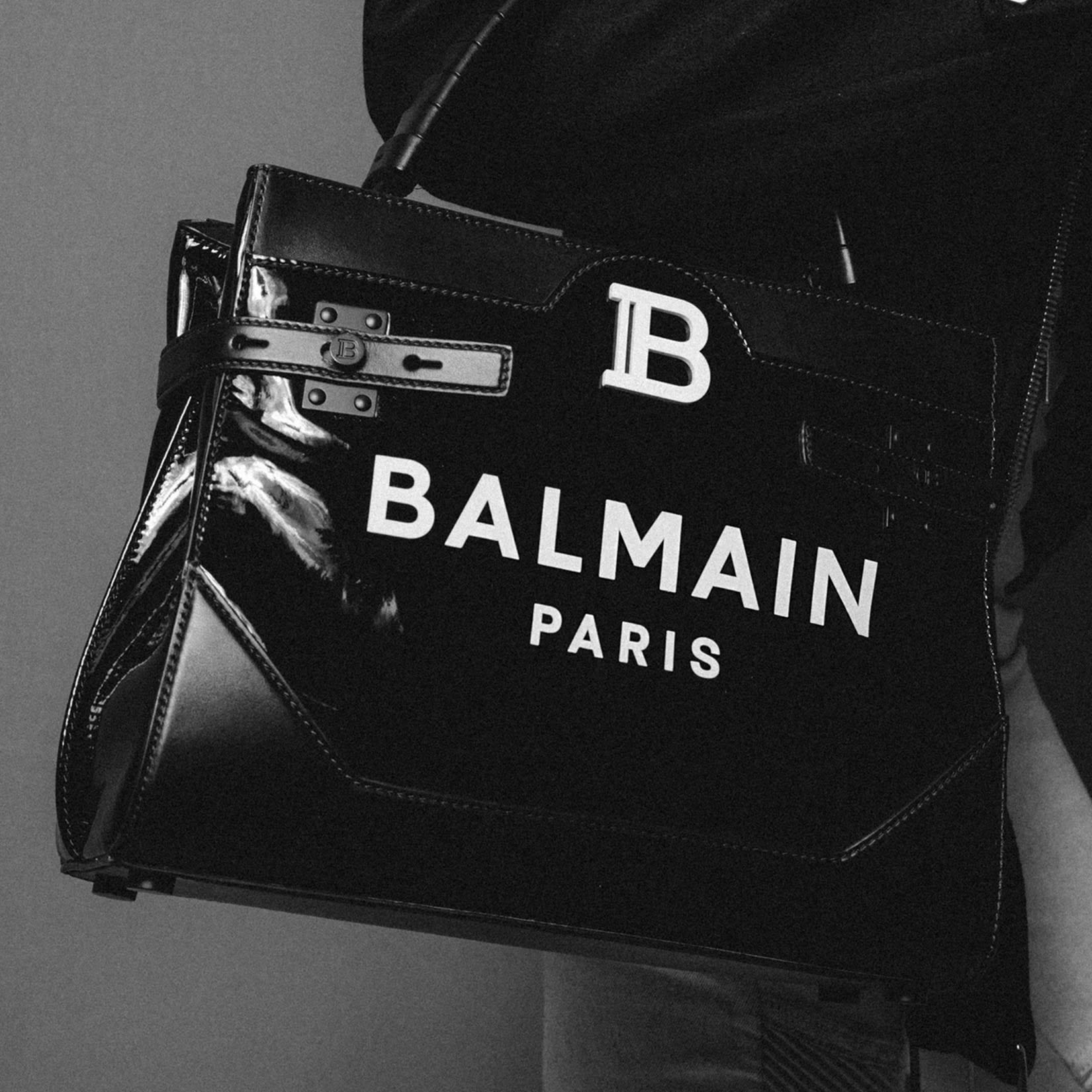 Smooth leather
Regularly use a soft, lint-free cloth with a small amount of colorless polish and shine with a soft cloth. To reduce the appearance of marks on the surface of the leather, rub the leather in a circular motion. Apply a waterproofing spray to your clean, dry bag before use and repeat if necessary. For the choice of product, you can contact a leather specialist. To clean stains, dab the area with a clean, damp, lint-free cloth and let dry naturally. Light-colored leather can acquire a patina appearance and become darker over time.
Embroidered leather
If your bag has embroidered elements, you need to be careful not to apply care products to the embroidery elements. This could irreversibly alter them. There is no specific care for embroideries. If an element falls off and/or needs to be replaced, you can call the store where you bought your item from to have a diagnostic on the possibility of repair.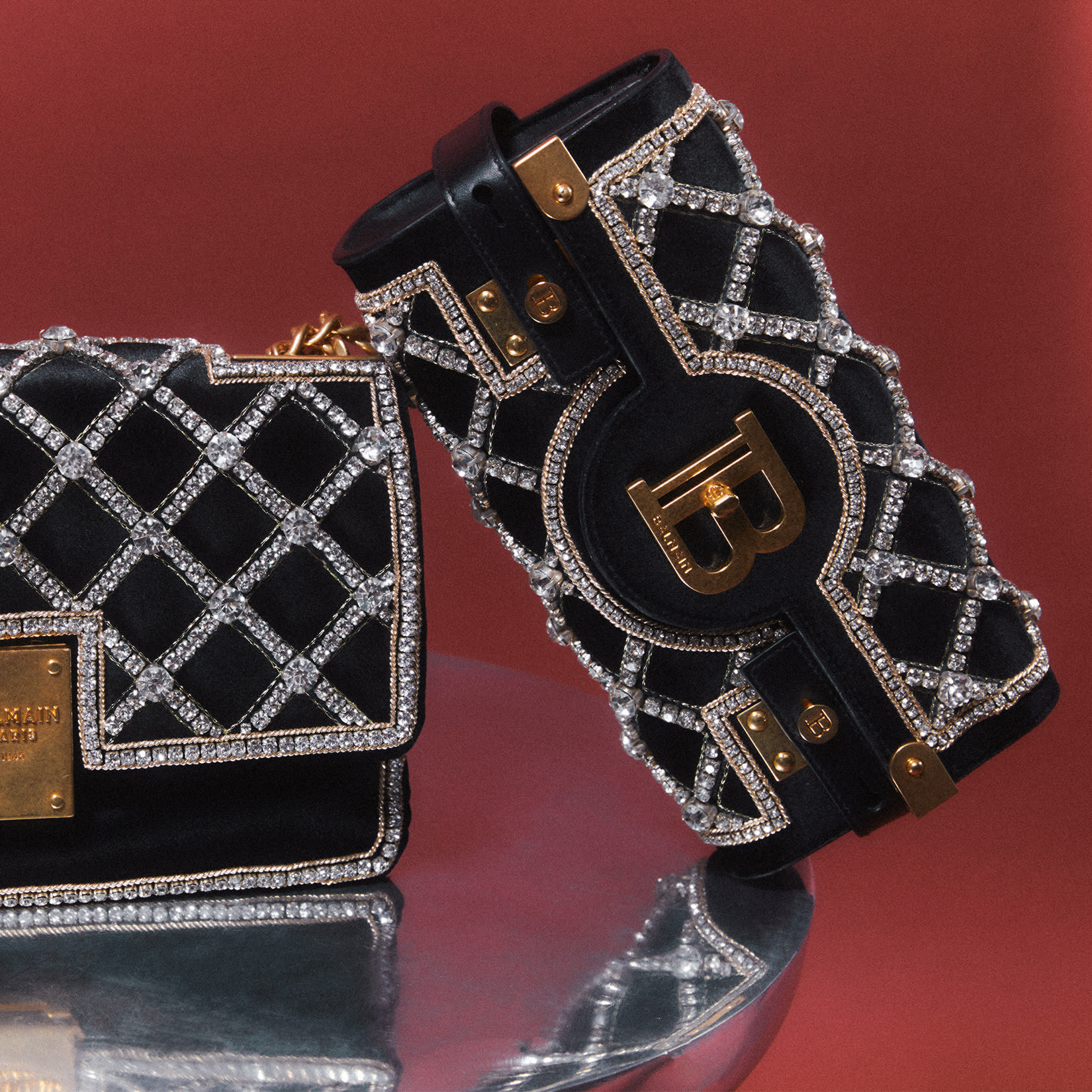 Exotic Leathers
This leather is sensitive to water as it can cause swelling and lifting scales. For routine maintenance, clean your bag with a soft cloth and apply—in the direction of the scales—a neutral colourless gel designed especially for reptile leathers. If desired, you can polish it with a chamois cloth.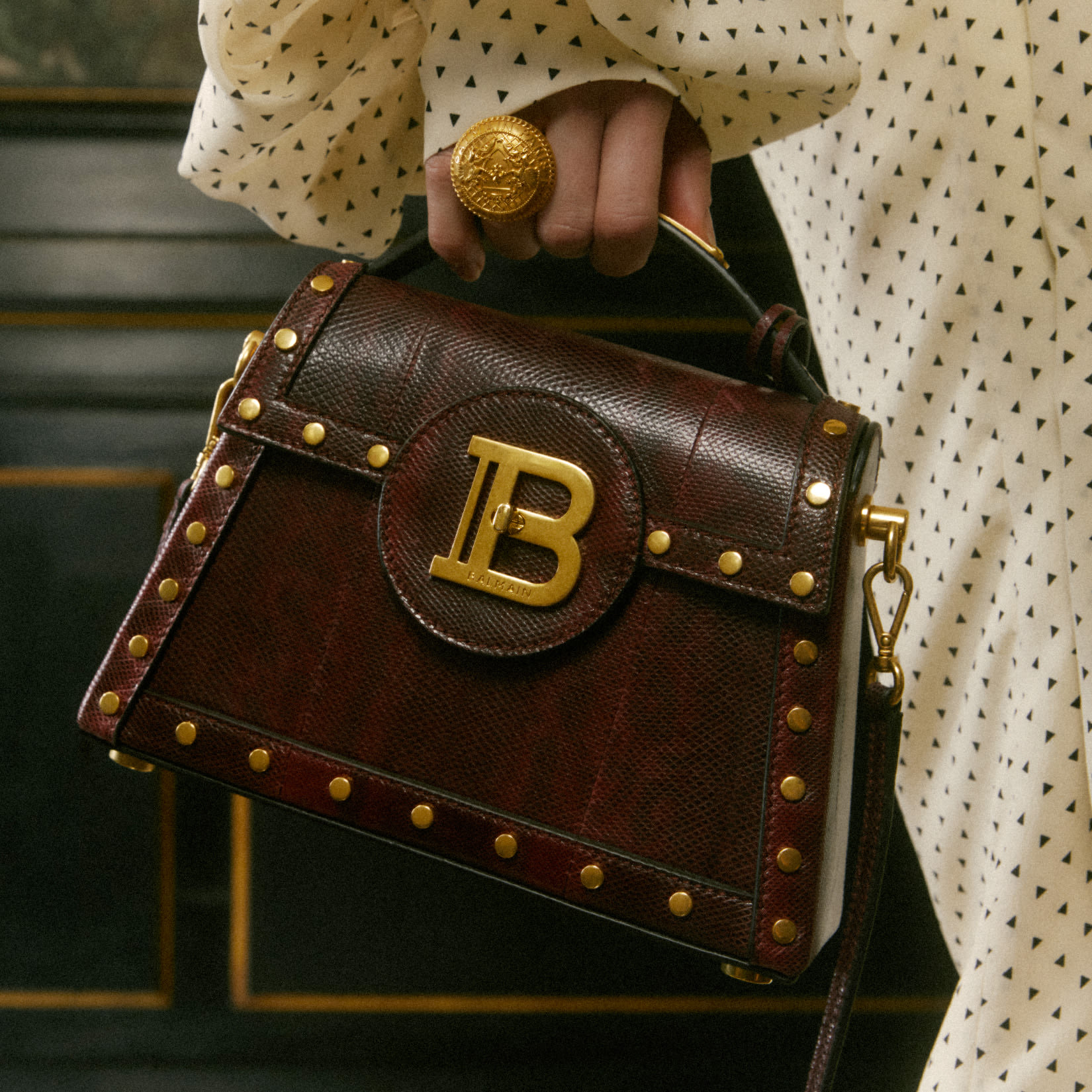 Canvas / satin canvas
To clean the item, use a clean, soft cloth dampened in soapy water, avoiding print areas, especially those bearing the Balmain logo. Rinse with a clean cloth soaked in lukewarm water and let dry away from all heat sources. Products, such as leather lotions, cleaners, or chemicals, should not be used on canvas or satin items. Using these remedies can lead to stains on the fabric. To know what care product to use or if your creation is stained, we advise you to contact a leather goods specialist, such as a shoemaker. Limit contact with hard or rough surfaces to avoid premature abrasion of the fabric and alternate your bags to ensure optimal use and longevity. Avoid all contact with textiles and materials that can cause the color to bleed. Avoid wearing dark clothes with light-colored canvas bags and vice versa.

Raffia / Straw
For routine maintenance, brush your bag with a soft-bristled brush. To remove marks, rub your bag gently (to avoid damaging the fibres) with a slightly damp sponge and some soap, before wiping it immediately with a dry cloth to prevent the raffia from swelling.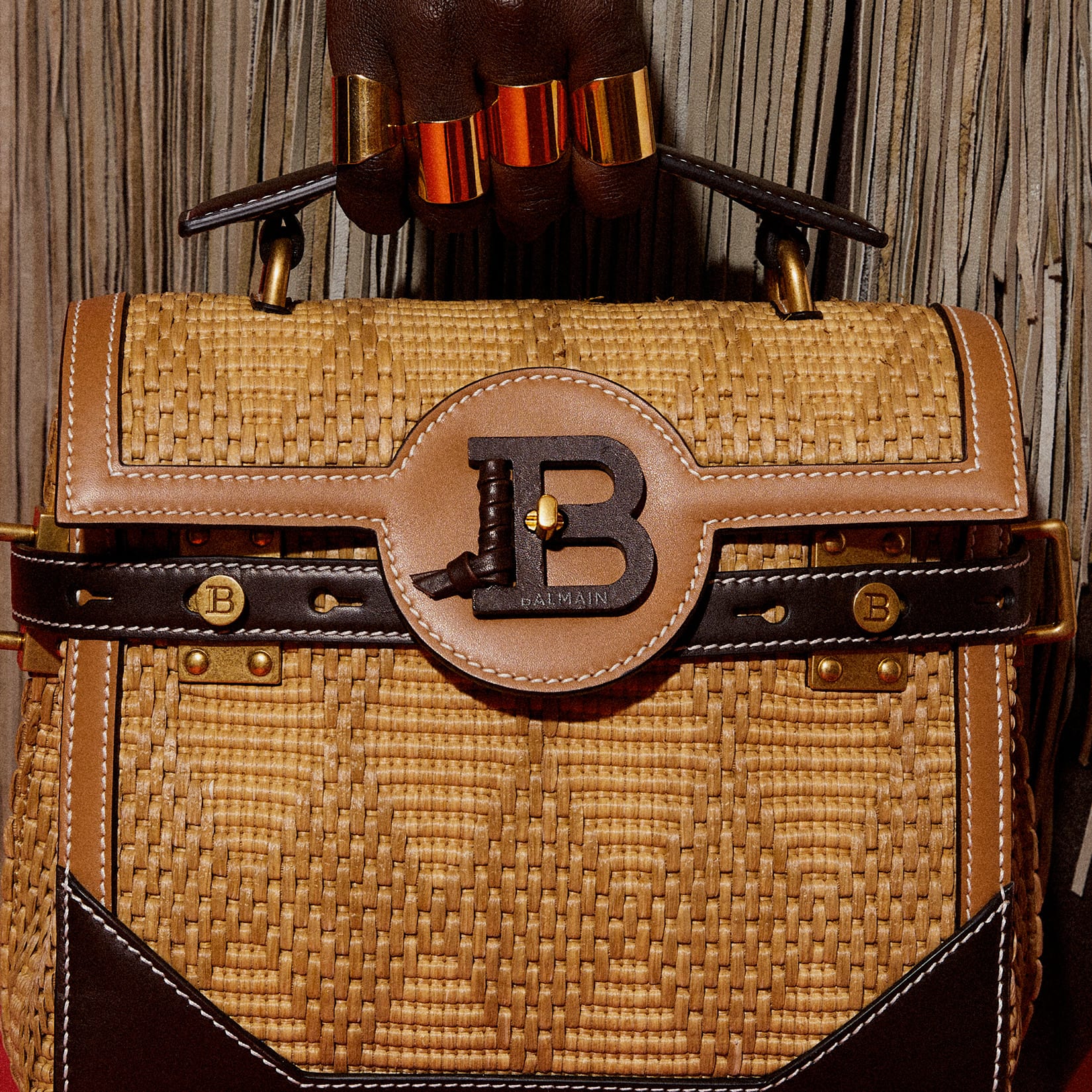 VELVET PIECE
Velvet is a delicate material despite its warm, sturdy texture. You can use a soft brush to gently remove dust and restore its smooth finish. Always double-check the care instructions found on the label inside your item. If machine washing is recommended, turn your item of clothing inside out to protect the pile and avoid using fabric softener.
Shearling / pony-style calfskin / faux fur
This type of leather can lose its hair with wear if it is too often subject to friction. It can only be cleaned with a dry cloth, lightly rubbing in the direction of the hair. If your piece is stained, we recommend you contact a leather specialist.
FANCY JEWELRY
Balmain jewelry is created from quality metal and within the demands of design. To preserve, it is advised to handle all pieces with care and delicacy. Please take to heart the following precautions for use and care, this way you can keep your jewelry in perfect condition. It is best to avoid wearing your jewelry in the following situations: • When you wash your hands to prevent soap deposits from getting on your jewelry. • When carrying out activities requiring the use of corrosive products to avoid damaging the tones that adorn your jewelry. • When playing sports to avoid bumps and scratches. • It is also best to avoid: o Exposing your jewelry to strong heat or sun for an extended period: these situations can damage your jewelry irreversibly. o Bringing your jewelry into contact with perfume/makeup which can generate irreversible stains. We suggest you store your jewelry in its protective pouch then place it in the box. Balmain metal jewelry and accessories can be cleaned with a soft cloth.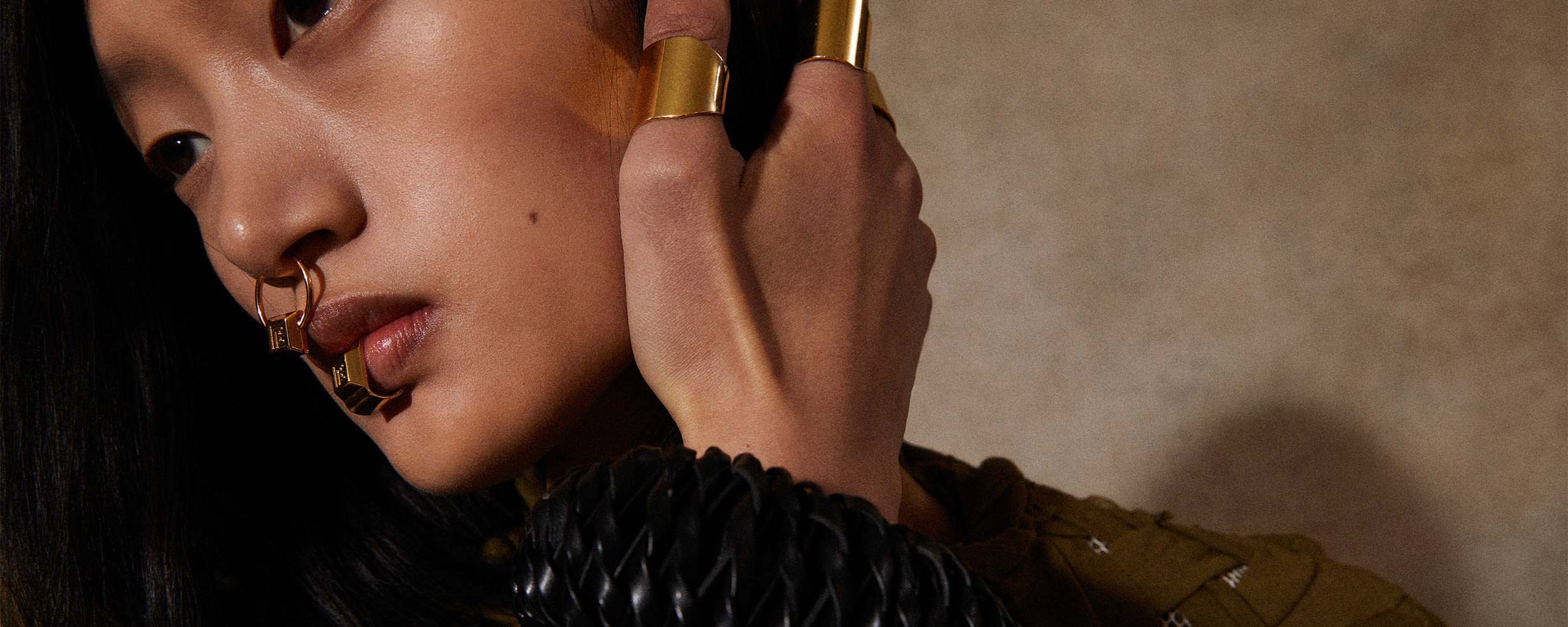 For more care instructions